---
Home
---
About Milward
---
Master Alloys
---
Phosphorus-Copper
---
Custom Alloys
---
Quality Assurance
---
Industry Links
---
Distributors
---
Contact Us
---
Site Map
---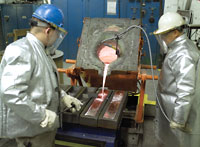 Beta Prototyping
Milward offers scale-up beta prototyping to produce an exact emulation of a production lot in a small quantity. Examples include:
7" diameter x 25" (18 cm x 64 cm) maxi-cast billet
6" x 18" x up to 200" (15 cm x 46 cm x 508 cm) DC cast
Specialty alloy as a maxi-cast billet extruded into a simple round or square cross-section
Small-batch alpha prototyping by melting a 110-lb. (50 kg) aluminum base alloy; includes de-gas treatment, filtration and Wagstaff maxi-cast of a 7" diameter x 22" (18 cm x 56 cm) billet that is fully representative of a large-scale production process
---
Milward Alloys, Inc. 500 Mill Street, Lockport, NY 14094-1712 USA
Phone: 716-434-5536 | Fax: 716-434-3257 | Toll-Free: 1-800-833-6600
E-Mail: milward@milward.com


ISO QUALITY CERTIFIED

© Copyright by Milward Alloys, Inc.