---
Home
---
About Milward
---
Master Alloys
---
Phosphorus-Copper
---
Custom Alloys
---
Quality Assurance
---
Industry Links
---
Distributors
---
Contact Us
---
Site Map
---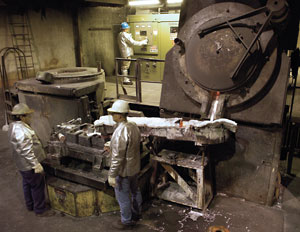 Production Capability
Milward Alloys operates a 73,000 sq. ft. complex, certified to ISO quality standards, to serve the needs of our customers for standard and custom alloys and additives. We also offer in-house and contracting services for heat treating cast forms with either rolling or extrusion as required.

Melting:

Resistance
Low-frequency induction
Conventional linings
Silicon-carbide crucibles
Casting:
Static mold (2" x 4" x 36"/ 5 cm x 10 cm x 91 cm)
Wagstaff maxi-cast (7" or 8"/18 cm or 20 cm diameter)
Wagstaff DC cast slab (6" x 18"/15 cm x 46 cm)
Unique semi-casting capability
---
Milward Alloys, Inc. 500 Mill Street, Lockport, NY 14094-1712 USA
Phone: 716-434-5536 | Fax: 716-434-3257 | Toll-Free: 1-800-833-6600
E-Mail: milward@milward.com


ISO QUALITY CERTIFIED

© Copyright by Milward Alloys, Inc.