---
Home
---
About Milward
---
Master Alloys
---
Phosphorus-Copper
---
Custom Alloys
---
Quality Assurance
---
Industry Links
---
Distributors
---
Contact Us
---
Site Map
---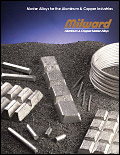 Aluminum & Copper Master Alloys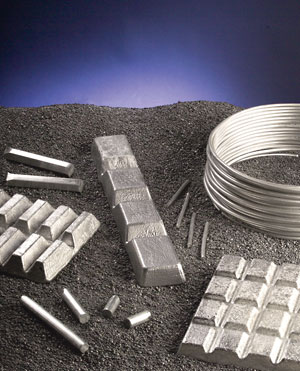 Milward's master alloys enhance the process or improve the performance characteristics of castings for the aluminum and copper industries. Our master alloys are produced in adherence to strict quality control practices utilizing an induction melting and alloying process followed by static mold or direct-chill (DC) continuous casting.

Static cast finished products are available in a variety of forms including full or cut waffle ingot and notch bar ingot. Copper-based master alloys are also available in shot, screened and sized to specification, and in bagged shot.

In addition, Milward produces ACU-STIX™, ACU-BAR™ and ACU-COIL™, proprietary lines of precision-extruded alloy products. Select beryllium alloys are offered in rod/coil form. Grain refining and modifying alloys are also available in 3/8" (9.5 mm) ACU-COIL rod form, 0.89" (22.5mm) ACU-STIX rod form, and 1.375" (35mm) ACU-BAR bar form.
---
Milward Alloys, Inc. 500 Mill Street, Lockport, NY 14094-1712 USA
Phone: 716-434-5536 | Fax: 716-434-3257 | Toll-Free: 1-800-833-6600
E-Mail: milward@milward.com


ISO QUALITY CERTIFIED

© Copyright by Milward Alloys, Inc.