---
Home
---
About Milward
---
Master Alloys
---
Phosphorus-Copper
---
Custom Alloys
---
Quality Assurance
---
Industry Links
---
Distributors
---
Contact Us
---
Site Map
---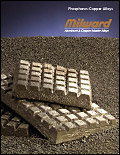 Phosphorus-Copper Forms & Packaging
Standard Forms:

Waffle: 9" x 15" x 1-1/2" (23 cm x 38 cm x 4 cm) approximately 50 lbs. (23 kg)
Shot: between (3/8" x 1/16") or (10 mm x 2 mm) available in increments of 1/16" (2 mm)
Shot/Bags: supplied in small, sealed plastic bags, 2-oz., 4-oz. or 6-oz. (60 g to 180 g)
Packaging: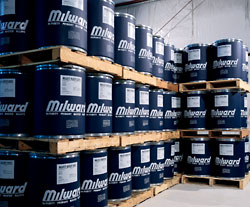 Milward's world-class Phosphorus-Copper is packaged in closed, sealed drums, 500 lbs. to 850 lbs., (227 kg to 386 kg), with desiccants to control moisture. Once opened, Phosphorus-Copper can react with moisture, and its surface will turn a pasty blue-green.

If your Phosphorus-Copper has a pasty blue-green surface, do not add the Phosphorus-Copper to molten material. Consult your Milward Alloys representative before use.
Shipping:
Phosphorus-Copper is available in stock for prompt shipment. Most domestic (USA) orders are shipped within 24 hours to one week. International orders are shipped within one-to-two weeks. At the customer's request, products will be shipped by truck, boat or rail. Our staff will work with you to meet your specifications and needs, discuss options, costs or answer any other questions and concerns.
---
Milward Alloys, Inc. 500 Mill Street, Lockport, NY 14094-1712 USA
Phone: 716-434-5536 | Fax: 716-434-3257 | Toll-Free: 1-800-833-6600
E-Mail: milward@milward.com


ISO QUALITY CERTIFIED

© Copyright by Milward Alloys, Inc.